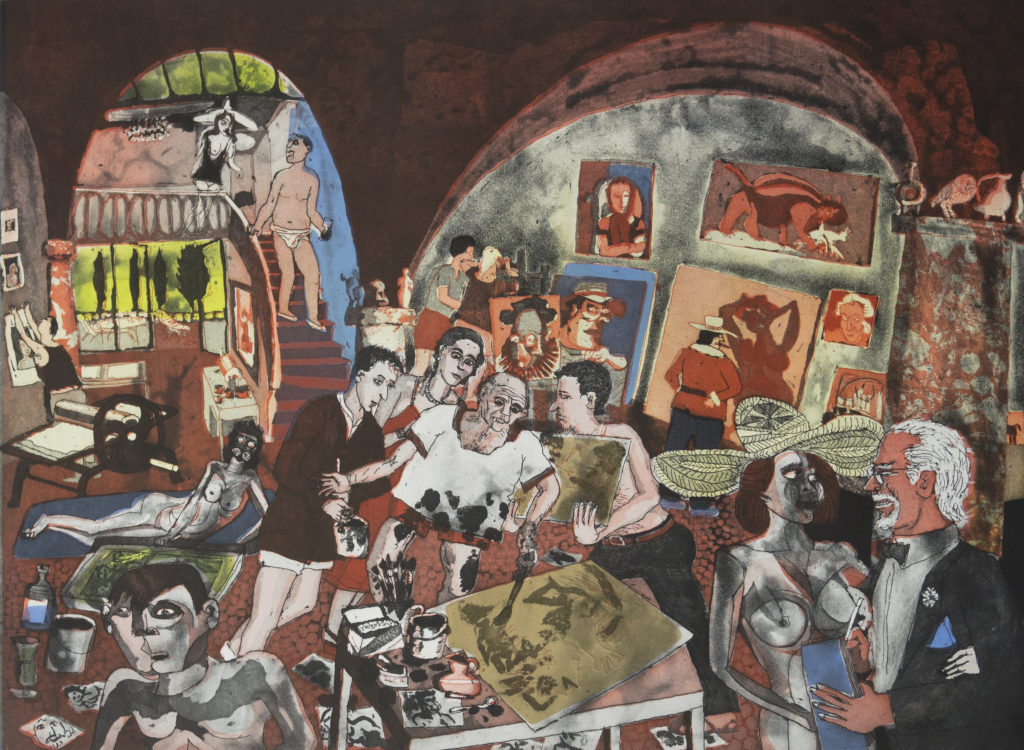 The Print Club of New York's 2002 Presentation Print was a color intaglio entitled Picasso at Mougins, created by Warrington Colescott of Madison, Wisconsin. The image was inspired by an article written by Pat Gilmore in the June 2001 issue of the Print Quarterly that dealt with Picasso's late prints, made when the artist was in his 90's, in Mougins, France, with the help of Aldo and Pierre Crommelynck. By the time the artist died in 1973, the Crommelyncks had helped him make some 750 intaglio prints-close to a quarter of the artist's graphic output.
Colescott became fascinated with the image of Picasso working in his studio with the Crommelynck brothers, and it became the point of departure for his image for the Print Club. The process for creating the print was a complex one. The artist began by drawing the total design in soft ground, using two plates for individual colors. He then added light and dark values using aquatint. Throughout, he continued to use two plates, working back and forth between them. The image grew by accretion, Colescott adding details to the scene in Picasso's studio-paintings stacked against the wall, a "critic" with a notebook, the Crommelyncks, a model reclining on a couch. When he was satisfied with the composition, he printed the two plates together, one in shades of red and the other in black. The artist then used stencil to add additional color to the image.
Finally, Colescott rolled a transparent yellow to white blend over it, the brightest yellow appearing at the bottom. An interest in art history, particularly the history of printmaking, has always played a role in Mr. Colescott's work. The artist is professor emeritus at the University of Wisconsin, Madison, where he taught for 37 years. He has received four fellowships from the National Endowment of the Arts as well as a Guggenheim Fellowship. He is a member of the National Academy of Design and a Fellow of the Wisconsin Academy of Sciences, Arts and Letters.
~ Gillian Greenhill Hannum ~
Museum Collections
Block Museum of Art Northwestern University, Illinois
Fogg Museum Harvard University, Massachusetts
Portland Museum of Art, Oregon
University of Arizona Museum of Art, Tucson, AZ
Virginia Museum of Fine Arts