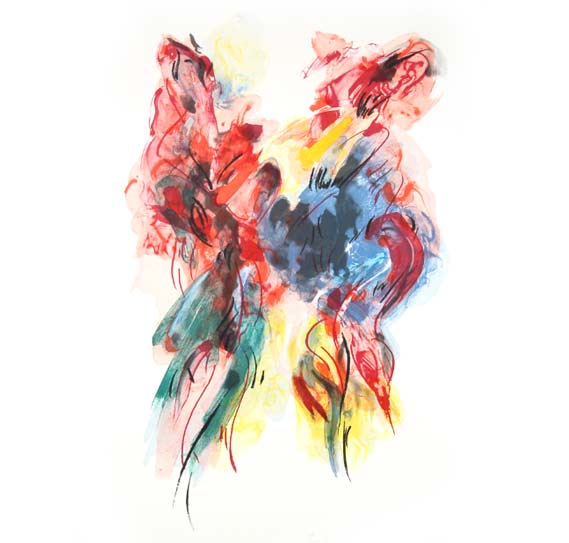 The Print Club of New York's 2004 Presentation Print is titled Two Dancers. The color lithograph, created in collaboration with master printer Maurice Sanchez, is a ten-color print, with three additional colors added by the artist using stencil on each, individual print. Colker, renowned as a painter, printmaker and educator, attended the Philadelphia Museum School of Art and then studied in Europe on a Guggenheim Fellowship.
In the 1970s, he became Director of the School of Art and Design at the University of Illinois, Chicago, and later he founded the Center for Edition works at SUNY Purchase, where he served as both Professor of Art and Design and Dean of the School of Visual Arts. He has also served as a faculty member and Provost at Cooper Union and Provost at Pratt Institute in Brooklyn.
Strongly influenced by other art forms, especially music, poetry and dance, Colker has explained that the Print Club's image revisits a theme he explored in a print made during the 1950s entitled Three Dancers, which was in the collection of Nelson Rockefeller. Colker's image for the Print Club began with the idea of an encounter between individuals and then developed into an exploration of the interaction between two dancers. Ed Colker's graphic work was the subject of a 1998 exhibition at the Neuberger Museum of Art at Purchase College, SUNY, titled Five Decades in Print. The artist's work is represented in the collections of the Museum of Modern Art, the Worcester Museum and the Philadelphia Museum of Art, among others.
~ Gillian Greenhill Hannum ~
Museum Collections
Delaware Art Museum, Delaware
Fogg Museum Harvard University, Massachusetts
The Hebrew Home at Riverdale, New York
Michener Museum, Pennsylvania
University of Arizona Museum of Art, Tucson, AZ
Virginia Museum of Fine Arts