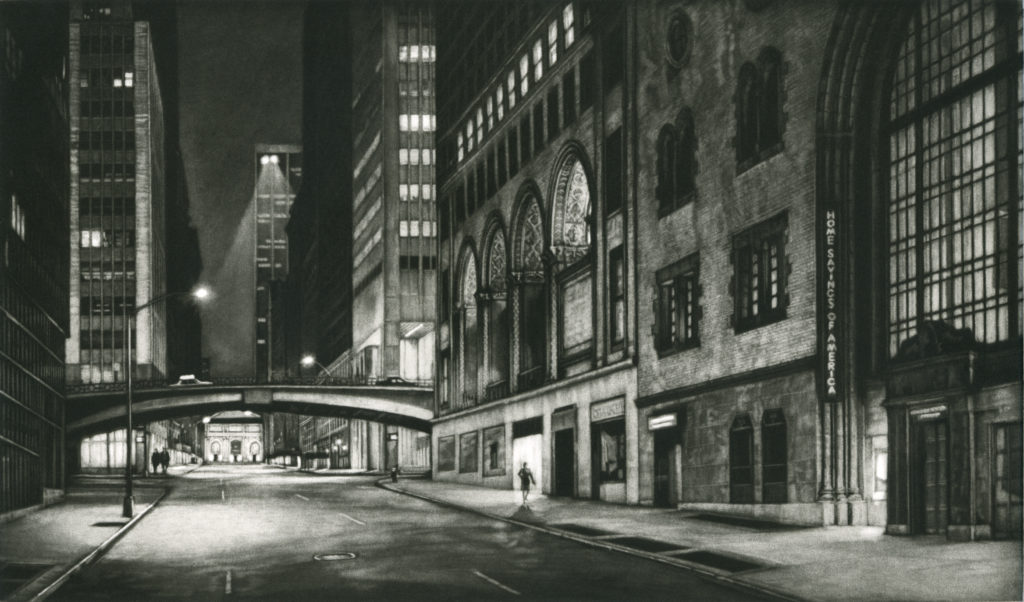 The first artist that was chosen to do the Presentation Print for the Print Club of New York was Fred Mershimer. Mershimer was an outstanding master of the mezzotint. He created a marvelous print of East 41st Street with the New York Public Library seen in the distance. It was titled Passage.
The Club's first edition was for 150 members, but it was so successful that we increased the membership to 200 for the following year. Fred continues to produce exciting mezzotints that are either in black and white or color. There is a great demand for these, and many editions are completely sold out. At the time that our print was produced, Mershimer was in a major print show at Georgetown University. A review of the show in The Washington Post of September 12, 1992 stated, "The mezzotint process–and Mershimer is a master of it–enables an artist to achieve subtleties of shading not otherwise possible."
We have been pleased to follow the career of Fred Mershimer, who has become a member of the Print Club. Earl Retic, the director of the Stone and Press Gallery in New Orleans, is in the process of writing a catalogue raisonné of Mershimer's prints. We look forward to seeing this book in the near future.
~ Elaine and Julian Hyman ~
Museum Collections