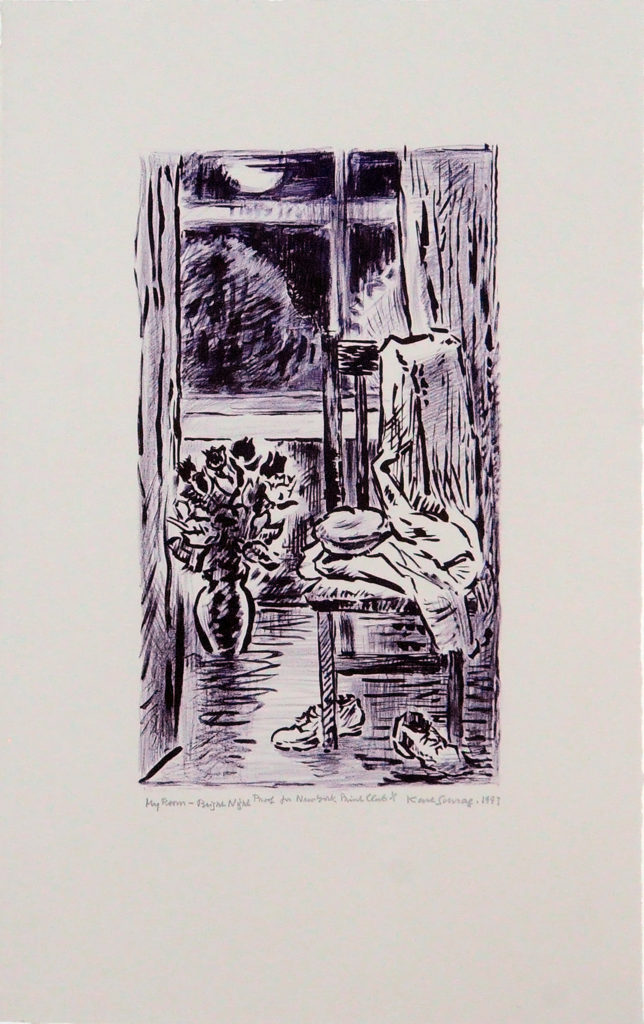 Karl Schrag was an established artist and printmaker when he accepted the assignment of creating the second Presentation Print for the Print Club of New York. The print he created was a dark violet lithograph on gray BFK Rives paper entitled My Room–Bright Night. The artist considered it to be a self-portrait. It was a fine example of the artist's work, which is shown in many major museums throughout the world.
Schrag was born in Karlsruhe, Germany in 1912. He worked in both Zurich and Paris before coming to the United States in 1939. He worked at printmaking under the tutelage of Stanley Hayter at Atelier 17 and became the director there in 1950 when Hayter retired. His prints have been included in major shows at the Museum of Modern Art, the Metropolitan Museum of Art and the Brooklyn Museum of Art. His self-portrait, a frequent subject of his prints and paintings, hangs in the portrait gallery of the Uffizi museum in Florence.
A catalogue raisonné of his graphic work from 1939 to 1970 was published by Syracuse University; Part 2 and Part 3 followed and included prints through 1990. Karl Schrag had a retrospective show at the Farnsworth Museum in Maine.
The artist and his wife, Ilse, spent over 40 summers visiting Deer Isle, Maine, and many of his prints and paintings were inspired by this beautiful area. It was one of our greatest pleasures to consider this wonderful, sensitive artist as a personal friend.
~ Julian Hyman ~
Museum Collections