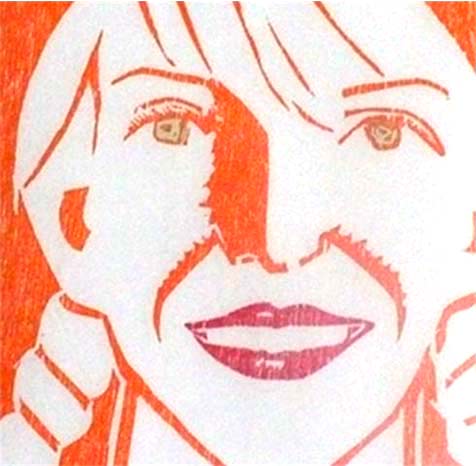 The third Presentation Print was Jessica by Alex Katz, a three-color image of a smiling woman. Katz is an extremely well known artist who continues to exhibit actively. Born in Brooklyn in 1927, he studied at The Cooper Union in New York City and the Skowhegan School of Painting and Sculpture in Maine during the 1940s. He had his first one-person show in 1954 at Roko Gallery in New York. The following year he began making collages.
In 1974 the Whitney Museum of American Art mounted a traveling exhibition, Alex Katz Prints. The same museum organized a traveling retrospective in 1986. In 1988 the Brooklyn Museum mounted Alex Katz: a Print Retrospective. In 1995, the year of the Presentation Print, the Staatliche Kunsthalle in Baden-Baden, Germany, mounted Alex Katz: American Landscape. The following year, on October 11, 1996, Colby College in Waterville, Maine (not far from Skowhegan) opened a new wing dedicated to the work of Katz. The artist donated over 400 pieces to the museum's collection, including paintings, cutouts, collages, prints and drawings. Designed by the architect Max Gordon, a revolving selection of Katz's work is displayed. The wing was one of Gordon's last completed projects prior to his death.
Since then, exhibits of Katz's paintings have been mounted at the Saatchi Collection in London (1998), the Galleria Civica Di Arte Contemporanea in Trento, Italy (1999), the Carnegie Museum of Art in Pittsburgh (2000), the Addison Gallery of American Art at Phillips Academy, Andover (2001-2002), the Whitney Museum (2002), the Kemper Museum of Contemporary Art in Kansas City, Missouri, The Oklahoma City Art Museum and the Austin Museum of Art (all 2002).
This past summer, Alex Katz: The Complete Woodcuts and Linocuts was on view at Bellevue Museum of Art, Bellevue, Washington, which included 42 woodcut and 36 linocut images created since 1951. Katz was trained as a graphic designer and spent his early years designing posters and book and magazine covers. His work is characterized by close-up vantage points and cropped compositions, treading a narrow line between realism and abstraction.
~ Gillian Greenhill Hannum ~
Museum Collections
Montclair Art Museum, New Jersey
Virginia Museum of Fine Arts