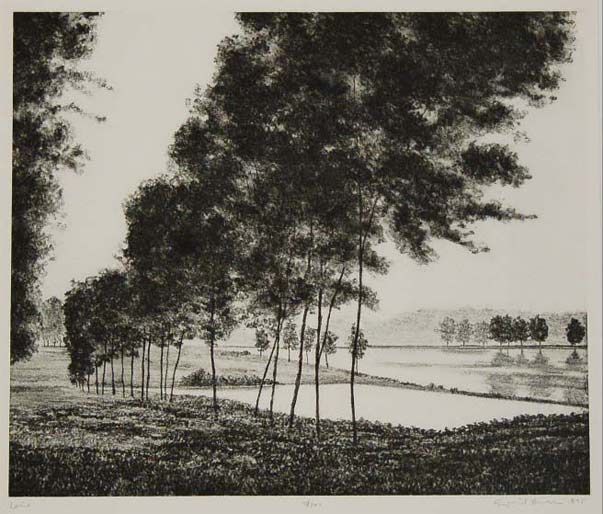 April Gornik was the artist chosen to create the 1995 Presentation Print for The Print Club of New York. The Print Selection Committee met at the Edward Thorp Gallery in SoHo to view an exhibition of Gornik's landscape prints and drawings. Everyone was in agreement that these works were so beautiful that any collection would be enhanced by the addition of one of her landscapes.
Our print, Loire, is intaglio on copper plate, printed on Arches paper. Its dimensions are 22 ¼ by 24 inches. April Gornik was born in Cleveland, Ohio and graduated from the Cleveland Institute of Art in 1975. She received her BFA in 1976 from the Nova Scotia College of Art and Design.
Gornik has had yearly shows at the Edward Thorp Gallery and also shows her prints at Mary Ryan and Pace Galleries. Her work hangs in museums and galleries across America. She is frequently reviewed in art journals and has been included in group shows in Russia, at the Venice Biennale, and in Australia.
~ Elaine and Julian Hyman ~
Museum Collections
Museum of Modern Art, New York
Portland Museum of Art, Oregon
Virginia Museum of Fine Arts