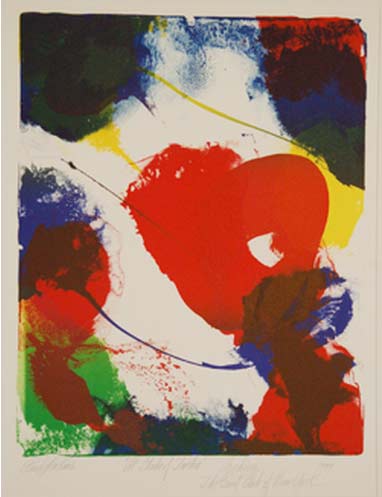 Paul Jenkins (b. 1923) was born in Kansas City, MO and worked in a ceramics factory as a teenager. It was there that he had his initial exposure to the impact of color and the creation of form. He arrived in New York in 1948, intent on becoming an artist. He studied at the Art Students League for three years where he was influenced by two important instructors, Yasuo Kuniyoshi and Morris Kantor.
His formative years in New York corresponded with the rise of the New York School of Abstract Expressionism, and his early career associated him with that movement. However, by the early 1950s he was one of the leaders of the move to Post-painterly Abstraction, experimenting with pouring and flowing pigments and manipulating his canvases.
He became very interested in metaphysics, especially the writings of Carl Jung and ideas from the Chinese I Ching, which emphasizes constant change. Jenkins' art became increasingly spiritual and intuitive. He once said, "I paint what God is to me." Jenkins first traveled to Paris in 1953 and had his first one-man show there a year later.
Jenkins now divides his time between New York City and Paris. His Presentation Print for the Club, a color lithograph titled At Stroke of Twelve, was conceived and executed in Paris. Jenkins began working in stone lithography with master printers in France in the 1960s. His print for us involved five press runs using primary colors in each run and was produced at Atelier Franck Bordas, Paris.
~ Gillian Greenhill Hannum ~
Museum Collections