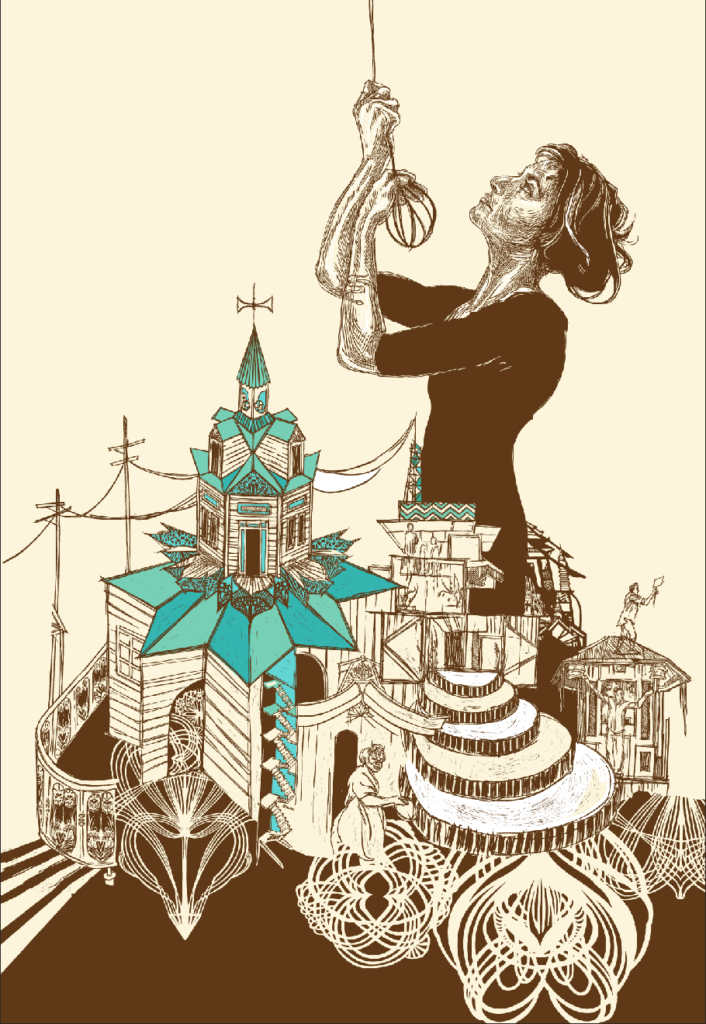 ARTIST:  Swoon
TITLE AND EDITION:  Caitlin, edition size 200 plus 1 Archival Image (A.I.), 1 Cancellation Proof, 30 APs and 7 PPs
Produced: 2019
MEDIUM: 5-color photopolymer letterpress relief print
PAPER: Hand-torn kozo paper, hinge mounted at the top over Canson Mi-Teintes paper
PRINT DIMENSIONS:  20 ½ x 13 ½ inches
PRINTER: Master Printer Jason Ruhl of Tandem Press in Madison, Wisconsin
In 2010 Swoon started a project with a group of friends which would later evolve into the Music Box Village, a sonic sculpture garden and experiential playground for collaborative musical architecture nestled into the levee of the Upper 9th Ward in New Orleans. This figure, Caitlin, originally created as a larger than life-sized linoleum block print for the gates of the Music Box village, is one of the artists and performers that are part of the Music Box community. This edition was printed in five runs on a Vandercook press by Master Printer, Jason Ruhl, using hand-drawn photopolymer plates from Swoon's drawing of Caitlin.
Caitlin pulls on a cable, a nod to the interactive nature of the Music Box Village. Her gesture unfolds outward into increasingly complex views of the Village itself, including structures by collaborators Alyssa Dennis and Ross Harmon, and snapshots of conductors, including Quintron, leading an orchestra from a rooftop or Jay Pennington strumming the string work stretched into the walls of a house. In its current iteration, The Music Box is an ongoing collaboration lead by New Orleans Airlift with input from over 50 artists and hundreds of musicians.
Originally known for her street art, Swoon is a Brooklyn-based, mixed media artist specializing in life-size wheatpaste prints and paper cutouts of human figures. She is represented in numerous collections around the world including The Museum of Modern Art, The Brooklyn Museum of Art, the Tate Modern, and the Los Angeles Museum of Contemporary Art.