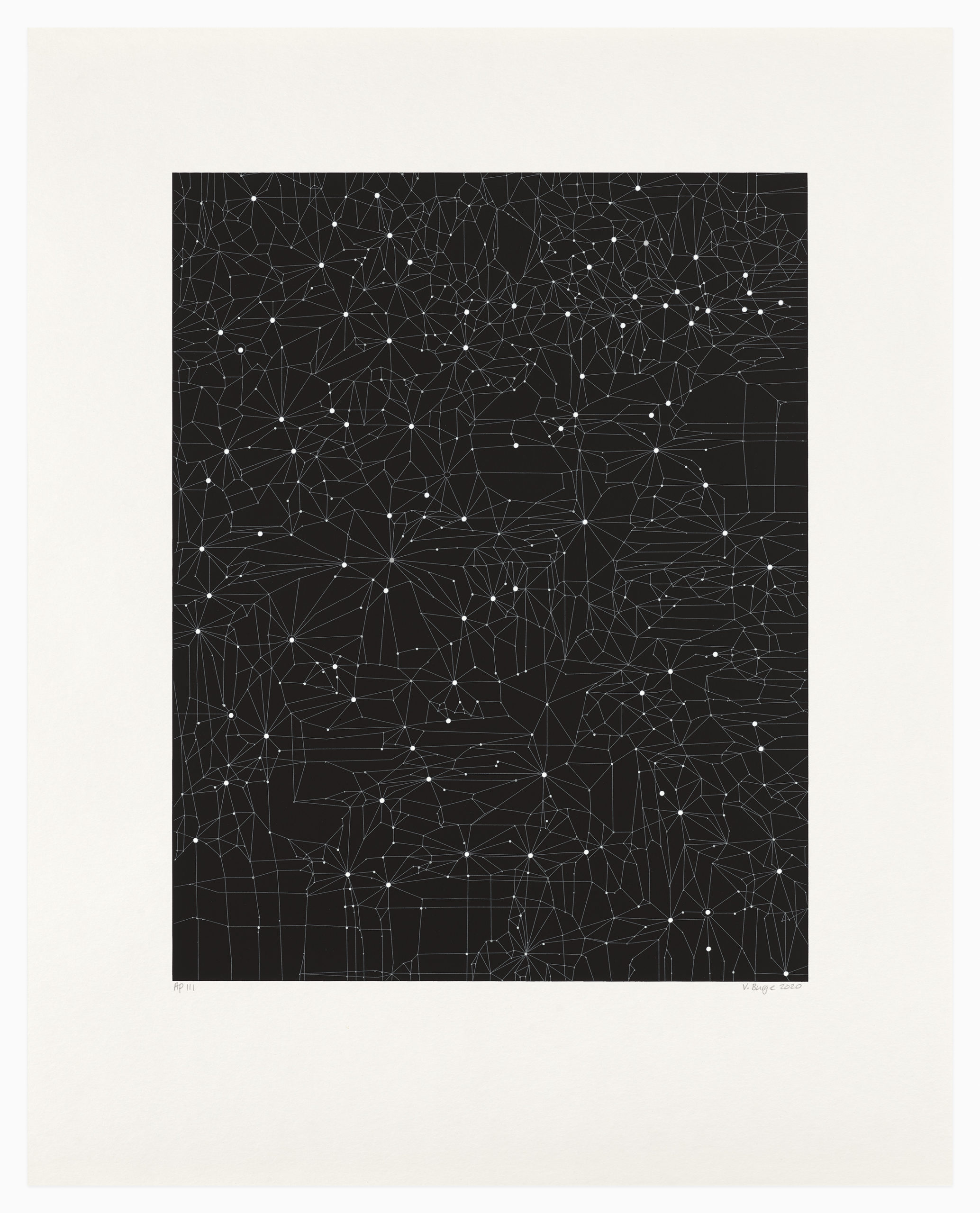 ARTIST:  Victoria Burge
TITLE AND EDITION:  Night Architecture, edition size 200 plus 1 Archive Print, 16 Artist Proofs, and 4 Printers Proofs
Produced: 2020
MEDIUM: 3-color silkscreen using acrylic polymer and Ultraviolet light cured ink
PAPER: Coventry Rag, 100% cotton archival paper
PRINT DIMENSIONS:  14 x 11 inches, outer paper dimensions 20 x 16 inches
PRINTER: Luther Davis, Dennis Hrehowsik, Chris Kinsler, and Zaire Anderson at Powerhouse Arts in Brooklyn, NY
In Night Architecture, threadlike lines connect scattered points of light on an opaque black ground. Built on the concept of the warp and weft, the vertical and horizontal axes used in weaving, Night Architecture unites Victoria Burge's previous explorations of celestial cartographies with her recent research into the repeated patterns, mathematical sequences, and coded notations used in textile design.
Burge's interest in textile design grew from an apprenticeship at The Fabric Workshop in Philadelphia in 2017 and a 2019 fellowship at the Josef and Anni Albers Foundation in Bethany, CT. With this edition, Burge brings structure to the seemingly random beauty of astronomical maps by applying the visual principles of traditional weaving techniques.
The preliminary drawing for Night Architecture is based on a page of the Atlas Eclipticalis (1958), a codex of star charts by Czech astronomer Antonín Bečvář. Using the points on the original map as graphic anchors, Burge creates a fabric of constellations. The overall composition retains a grounding sense of order, moored by the semblance of a grid. Each line's delicate trajectory calls to mind a ray of light in the night sky, a strand of lace thread, or the organic filaments of a spider's web.
Light is not only present in the subject matter of Night Architecture; it is also crucial to the printing process. To make the image, Burge's preliminary atlas drawing was transferred with light to a fine mesh silkscreen. The individual points of light in the print are made with Braille-like ink, which creates a slightly raised, glossy impression on the paper's surface. In order for the ink to set it is exposed to high intensity Ultraviolet light.
Burge's works on paper are in the permanent collections of the Metropolitan Museum of Art, the Philadelphia Museum of Art, the New York Public Library, the Smithsonian American Art Museum, the British Museum, and the Hunterian Museum, Glasgow. She is a recipient of a Pollock-Krasner Foundation Grant and has been awarded fellowships by MacDowell and the Josef and Anni Albers Foundation. Her work has been featured in ARTnews, Art in Print, and The New York Review of Books.
The video recording of the annual artist talk with Victoria Burge and Luther Davis can be viewed here.