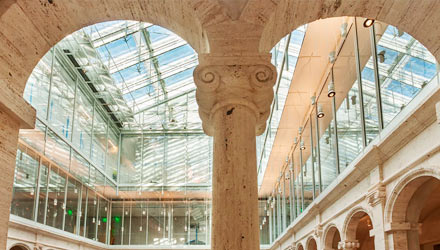 The Fogg Museum, opened to the public in 1896, is the oldest of Harvard University's art museums. The Fogg joins the Busch-Reisinger Museum and the Arthur M. Sackler Museum as part of the Harvard Art Museums.
The museum was originally housed in an Italian Renaissance-style building designed by Richard Morris Hunt. In 1925, the building was replaced by a Georgian Revival-style structure on Quincy Street, designed by Coolidge, Shepley, Bulfinch, and Abbott. (The original Hunt Hall remained, underutilized until it was demolished in 1974 to make way for new freshman dormitories.[2])
In 2008, the 32 Quincy Street building that formerly housed the Fogg Museum and the Busch-Reisinger Museum closed for a major renovation project to create a new museum building designed by architect Renzo Piano that would house all three museums in one facility. During the renovation, selected works from all three museums were on display at the Arthur M. Sackler Museum. The new expanded facility was opened in 2014, and renamed the Harvard Art Museums.
The Fogg Museum is renowned for its holdings of Western paintings, sculpture, decorative arts, photographs, prints, and drawings from The Middle Ages to the present. Particular strengths include Italian Renaissance, British Pre-Raphaelite, and French art of the 19th century, as well as 19th- and 20th-century American paintings and drawings.
Presentation Prints in the collection: