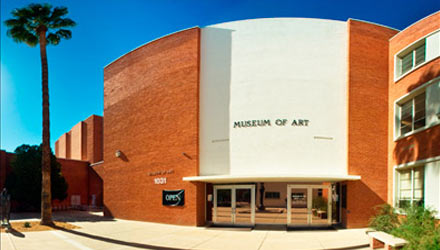 The University of Arizona Museum of Art (UAMA) is an art museum in Tucson, Arizona, operated by the University of Arizona. The museum's permanent collection includes more than 6,000 works of art, including paintings, sculptures, prints and drawings with an emphasis on European and American fine art from the Renaissance to the present.
The museum is located on the UA's campus near Park Avenue and Speedway Boulevard. Admission is free to UA students, faculty, and staff with student ID. The current executive director of the museum is W. James Burns. It is part of "the Museum Neighborhood," a cluster of four museums within walking distance of each other; the other three museums are the Center for Creative Photography, Arizona State Museum, and Arizona Historical Society (a non-UA institution located just off campus).
A university gallery at the University of Arizona existed in the 1930s. In the 1930s, the Works Projects Administration, one of the New Deal agencies, donated 200 lithographs and prints created by artists that it supported. These works formed the core of the museum's initial collection of works.
In 1944, University of Arizona alumnus Charles Leonard Pfeiffer donated many American paintings. This was followed by the addition of the Samuel H. Kress Collection, a donation from the Samuel H. Kress Foundation, which originally comprised 50 European paintings, in the early 1950s. Museum director Peter Bermingham led the museum for over 20 years, from 1978 to 1998. During his tenure, the museum more than doubled its holdings. Peter Briggs, who had begun his work in the museum as curator of collections in 1990 under Bermingham, was promoted to chief curator, but his contract was not renewed in 2004
Presentations Prints in the collection: