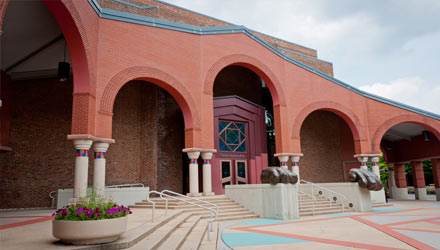 The Palmer Museum of Art is the art museum of Pennsylvania State University, located on the University Park campus in State College, Pennsylvania.
It has a permanent collection of more than 6,000 works. One of the museum's most popular works is a massive pair of bronze lion's paws that flank the building's front steps. Modeled by sculptor Paul Bowden in 1993, they playfully evoke the traditional lion statues that flank Beaux-arts buildings, such as the New York Public Library, and also pay tribute to Penn State's mascot, the Nittany Lion.
The University Art Museum's original building was a Brutalist "box," containing three galleries that opened in 1972. Post-modernist architect Charles Willard Moore greatly expanded the building in 1993, converting the "box" into a 150-seat auditorium, and wrapping eleven new galleries around it. He created a lively entrance plaza, reminiscent of his Piazza d'Italia (1978) in New Orleans, Louisiana, adding multiple levels and a graduated arcade of brick arches resting on cartoon Tuscan columns. The museum was renamed to honor James and Barbara Palmer, who initiated the campaign to expand the building in 1986 with a $2 million gift.
Presentations Prints in the collection:
Will Barnet (1998 PCNY print)
Chakaia Booker
Stanley Boxer
Elizabeth Catlett
Amze Emmons
Craig McPherson
Paul Resika
Faith Ringgold